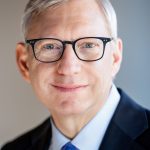 Supporter Spotlight: The 1989 Society Founder, Scott A. Thacker, CPA, CLFP
Scott Thacker was the driving force behind the establishment of the Equipment Leasing & Finance Foundation's legacy society, The 1989 Society. As the driving force behind formalizing The 1989 Society, Scott caught up with the Foundation's staff to discuss his interesting career path, and what motivated him to make this future focused gift.
Foundation: How did you first get involved in the equipment finance industry? What trajectory has your career taken?
Scott: My first involvement in equipment finance was in 1986 right out of graduate school. I wanted to work in a sophisticated corporate treasury department, so I joined American Airlines which was creating a national network of airport hubs and required lots of aircraft for the expanding route network. There I leased aircraft and was involved in creating the first Equipment Trust Certificates. In the mid-1990s, I caught the technology bug and worked in the dot-com sector.
From there, I joined Oracle and led the team who created the Oracle Lease and Finance Management software application in conjunction with both GE Capital and Ivory Consulting. Then it was onto being a partner in the Financial Services Solutions Group at Accenture. In a turn of fate, Chris Ivory called me 13 years ago and asked me to join the Ivory Consulting team. I've been the CEO since 2012. I am proud to be leading Ivory Consulting as we celebrate our 40th anniversary this year.
Foundation: How did you first become involved with membership/volunteering to support the industry? And what volunteer roles have you held?
Scott: I attended my first ELFA annual convention in 2001 and became hooked on the enthusiasm of the attendees and on the usefulness and thoughtfulness of the sessions. Since then, I've volunteered in many roles culminating in board roles with both the ELFA and the Foundation. My most rewarding experience was as co-chair of the Foundation's Research Committee where we decided which topics to study, selected a researcher and published a study. In fact, I coordinated the research on seven major pieces of research.
Foundation: Why have you decided to stay so involved in and supportive of the Foundation over the last decade?
Scott: The people involved with the Foundation are some of the smartest, most engaging and passionate people I've met in all of my volunteer roles. We are all kindred spirits who love knowledge, research, and academics. Volunteering on behalf of the Foundation is not work nor a burden – it's quite enjoyable.
Foundation: Would you be willing to share why you were motivated to make a legacy gift (a commitment to contribute to the Foundation in your estate plans after your lifetime)?
Scott:  The Foundation serves a very useful purpose for our industry – the data and information the Foundation publishes is at the heart of what all lessors what to know. It's important, and I'd like to preserve it.
As an engaged annual donor, I looked at the Foundation and asked what we did not have that other nonprofits do have. And the answer was a legacy/planned giving program. So, I rolled up my sleeves and helped make it happen by launching and committing to The 1989 Society.
Foundation: What would you say to others who are considering a legacy gift? Or perhaps are uncertain about making such a gift?
Scott:  Ask yourself a question – how do you preserve something so fundamental to your life's work — to your career and personal success? When you join The 1989 Society you are creating a lasting legacy which will provide the Foundation with some of the resources it needs to continue to be a leader in publishing the valuable insights it is now known for.  Join us and become a part of the Foundation's future propelling the equipment finance industry forward in the most innovative way possible.
To learn more about legacy giving, visit The 1989 Society website for more information.