Supporter Spotlight: The 1989 Society Member, John Deane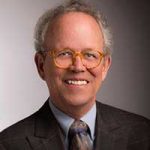 John Deane has been an active volunteer member of ELFA for almost 50 years. A graduate of Denison University and the University of Michigan, John first became involved in the equipment finance industry in 1972. John recently committed to a legacy gift and became a founding member of the Equipment Leasing & Finance Foundation's The 1989 Legacy Society. The Foundation's staff caught up with John to learn more about his storied career, and what motivated him to make this future focused gift. 
Foundation: How did you first get involved in the equipment finance industry? What trajectory has your career taken? 
John: My first involvement in equipment Finance was in 1972 when I was assigned a market entry white paper to study the industry as part of my duties as a trainee at the Marine National Exchange Bank in Milwaukee, Wisconsin. The white paper inspired me to create the Marinebanc Leasing Company. In 1987, I joined Banc One Leasing Company as CEO. In 1993, I co-founded The Alta Group  and was there until I retired in 2021. I continue to serve on the board of directors of GreatAmerica Financial Services. 
Foundation: How did you first got involved with membership/volunteering to support the industry? And what volunteer roles have you held?  
John: I have been active in the ELFA for most of my career, including serving as Chairman from 1991-1993. I have worked on numerous committees and served on the board for 12 years. I have also spoken at association events. Finally, the Alta Group also developed and sponsored the Equipment Leasing & Finance Execute Roundtable for ten years 
Foundation: Why did you decide to support the Equipment Leasing & Finance Foundation? 
John:  I have supported the Foundation personally since its very inception in 1989. The Foundation does very important work to support our industry. 
Foundation: Would you be willing to share why you were motivated to make a legacy gift (a commitment to contribute to the Foundation in your estate plans after your lifetime)?  
John: I have had a wonderful and rewarding career in our industry and it is important to me to give back. And the process was very simple for me, as I just sent instructions to my estate attorney to include the Foundation as a legacy beneficiary. 
Everyone should decide their own charitable objectives, but the Foundation does really important work that benefits the industry that has benefited so many of us. Joining The 1989 Society is a gift that keeps on giving long into the future. 
To learn more about legacy giving, visit The 1989 Society website for more information.