Supporter Spotlight: The 1989 Society Member, Ralph Petta, President & CEO, Equipment Leasing and Finance Association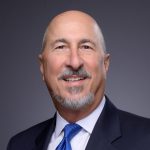 Ralph Petta is the President & CEO of ELFA and has dedicated his decades long career to advancing the equipment finance industry. Ralph, alongside his wife Lisa Levine, recently committed to a legacy gift and became founding members of the Equipment Leasing & Finance Foundation's The 1989 Legacy Society. The Foundation's staff caught up with Ralph to learn more about his long career with ELFA, and what motivated them to make this future focused gift.
Foundation: How did you first get involved in the equipment finance industry? What trajectory has your career taken?
Ralph: I grew up in Syracuse, New York, and attended grammar school, high school and college there. After college, armed with a political science degree, I moved to Washington, DC and went to work on Capitol Hill for U.S. Senator Sam Nunn. I progressed from a junior level staff position to legislative assistant, responsible for a variety of substantive legislative and constituent services activities.
I left Capitol Hill in 1987 to begin working for the trade association then known as the American Association of Equipment Lessors (AAEL), which is now the Equipment Leasing and Finance Association (ELFA). In 1989, with seed funds donated by a prominent industry leader, the association created a separate affiliated nonprofit entity, the Foundation for Leasing Education (FLE), later named the Equipment Leasing & Finance Foundation (ELFF).
Among the many opportunities presented to me over my career at the association was to succeed the Foundation's first full-time chief staff person, splitting this duty with my other responsibilities at ELFA.  A few years later, ELFA elevated the role of the Foundation within the industry, as well as expand its mission. This led to the hiring, in 1999, of a full-time executive director to manage the day-to-day operations of the organization. I continued to advance through the ranks at the association, becoming its Chief Operating Officer in 2010, and its President and CEO in 2016.
Foundation: Why did you decide to support the Equipment Leasing & Finance Foundation?
Ralph:  I have supported the Foundation in a variety of ways, financially and otherwise, since its inception in 1989.
Foundation: Would you be willing to share why you were motivated to make a legacy gift (a commitment to contribute to the Foundation in your estate plans after your lifetime)?
Ralph: The Foundation does great work for the industry, providing valuable research and academic outreach primarily to employees of equipment finance organizations.  No other organization serving this important industry provides the level and quality of research for the benefit of the equipment finance industry. These and other Foundation programs play an important role in helping the industry and its stakeholders grow and prosper. I would like to see that continue.
I am particularly proud of the small part I played in the creation of the Foundation's scholarship program, which I encouraged wholeheartedly as a way to help young people receive a college education and become exposed to this terrific industry and its career benefits.  The Foundation requires a sustainable source of financial resources to continue to develop programs like this.  In addition, the industry and its component parts, the association and Foundation, have contributed significantly to my professional growth and career goals.  Being a part of this legacy brings me a sense of satisfaction that I will have played a small part in allowing the Foundation to continue to thrive and provide beneficial resources for future generations.
Foundation: What would you share with someone who was thinking about joining The 1989 Society?
Ralph: To those who have made a living in this industry, this is a way to "give back" and make a financial contribution that will live longer than you will.
To learn more about legacy giving, visit The 1989 Society website for more information.