The equipment finance industry, like most sectors of the global economy, has been affected by the COVID-19 pandemic. In order to track industry response to the pandemic, the Equipment Leasing & Finance Foundation has developed a monthly COVID-19 Impact Survey. 
To participate in the COVID-19 Impact Survey of the Equipment Finance Industry:  Survey responses are limited to one per company. If you did not receive a survey and would like to participate, please contact Stephanie Fisher, sfisher@leasefoundation.org, to determine eligibility for inclusion in the survey.
October 2020 Survey Highlights - Deferrals
76 survey responses were collected from October 1-12 on a range of topics, including payments deferrals, defaults, and staff analysis. 56% of companies expect that the default rate will be greater in 2020 than in 2019, down from 73% last month, 35% expect it to be the same compared to 20% in September, and 9% expect it to be lower compared to 7% last month.
Only 7% of lenders reported having more than 10% of their portfolio now under deferral, down from 15% of lenders last month. When asked to what extent regulatory and/or funding source pressures are limiting companies' willingness or ability to provide deferrals now, 66% responded "not at all," 29% answered "somewhat," and 4% indicated "substantially."
The largest percentage of respondents (58%) have 0.01-4.99% of dollars outstanding currently under payment deferral in their owned portfolio.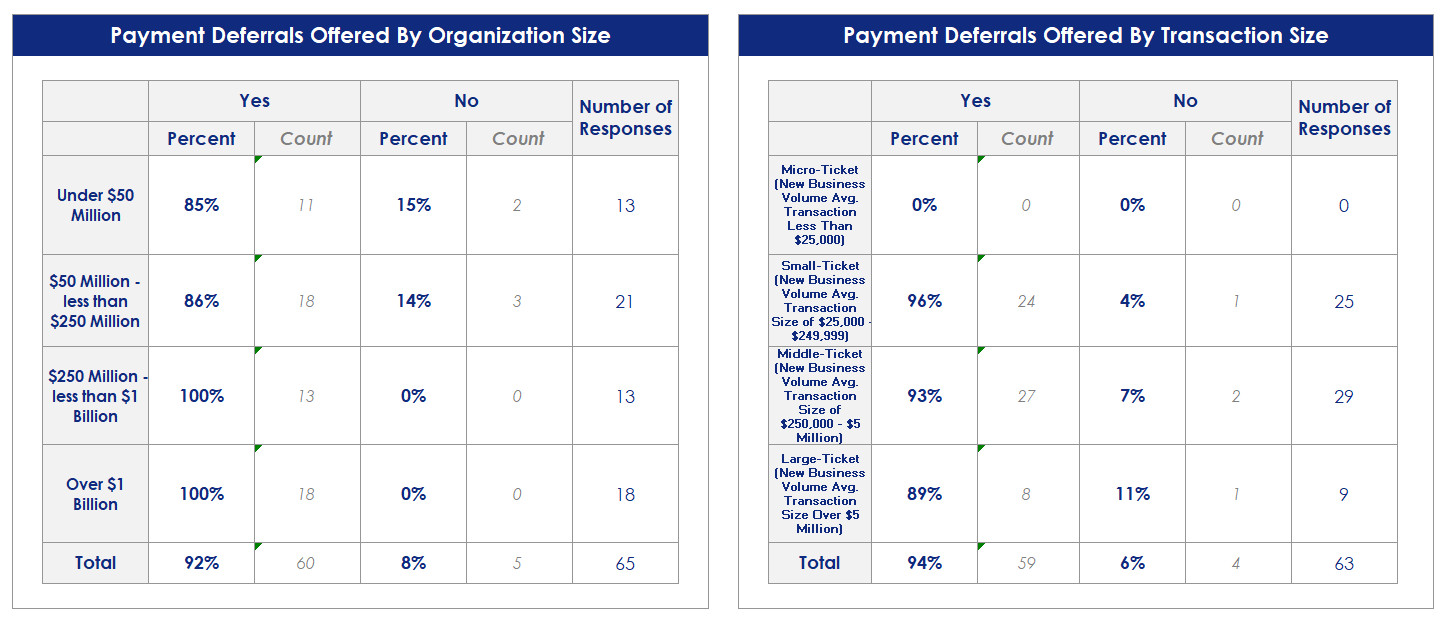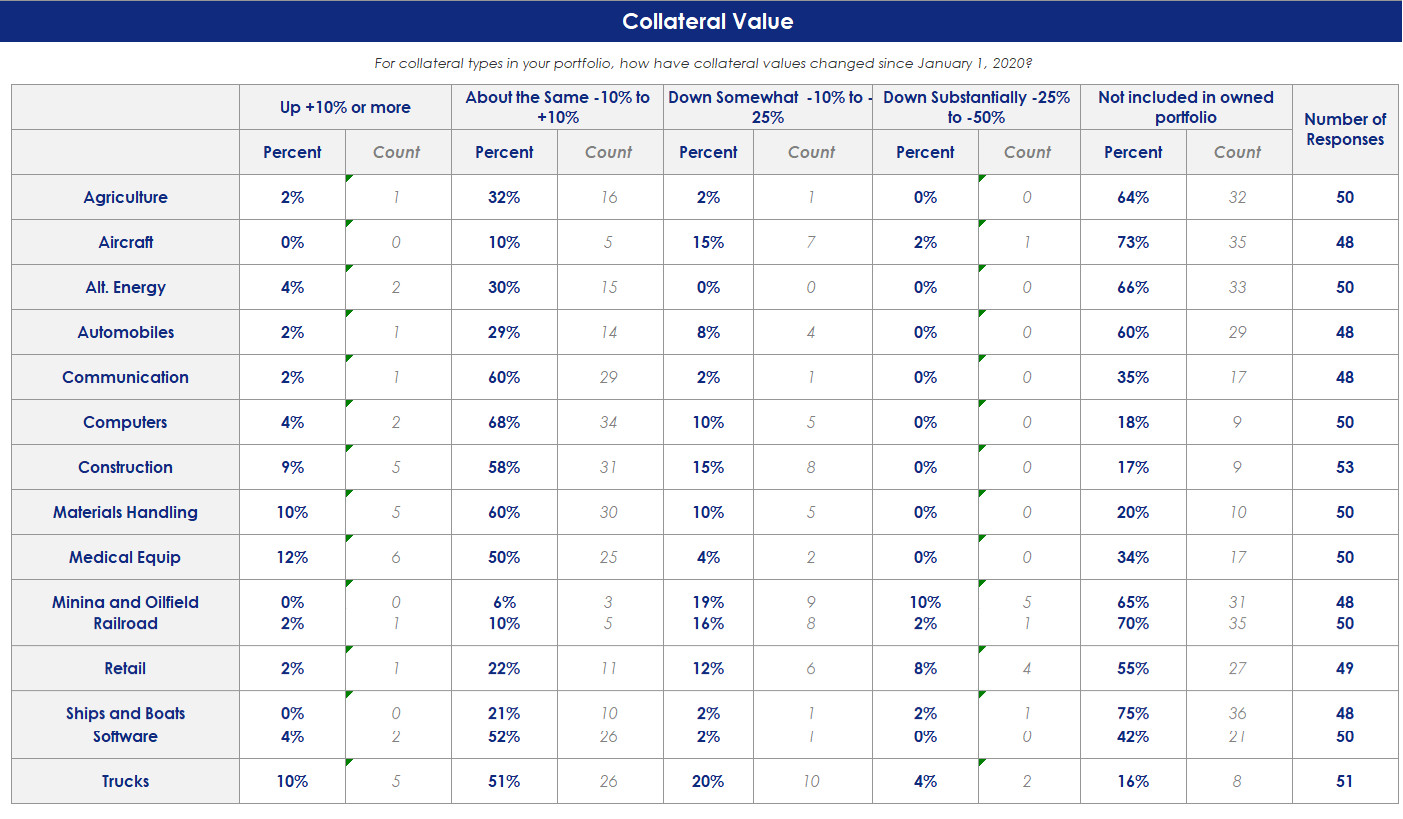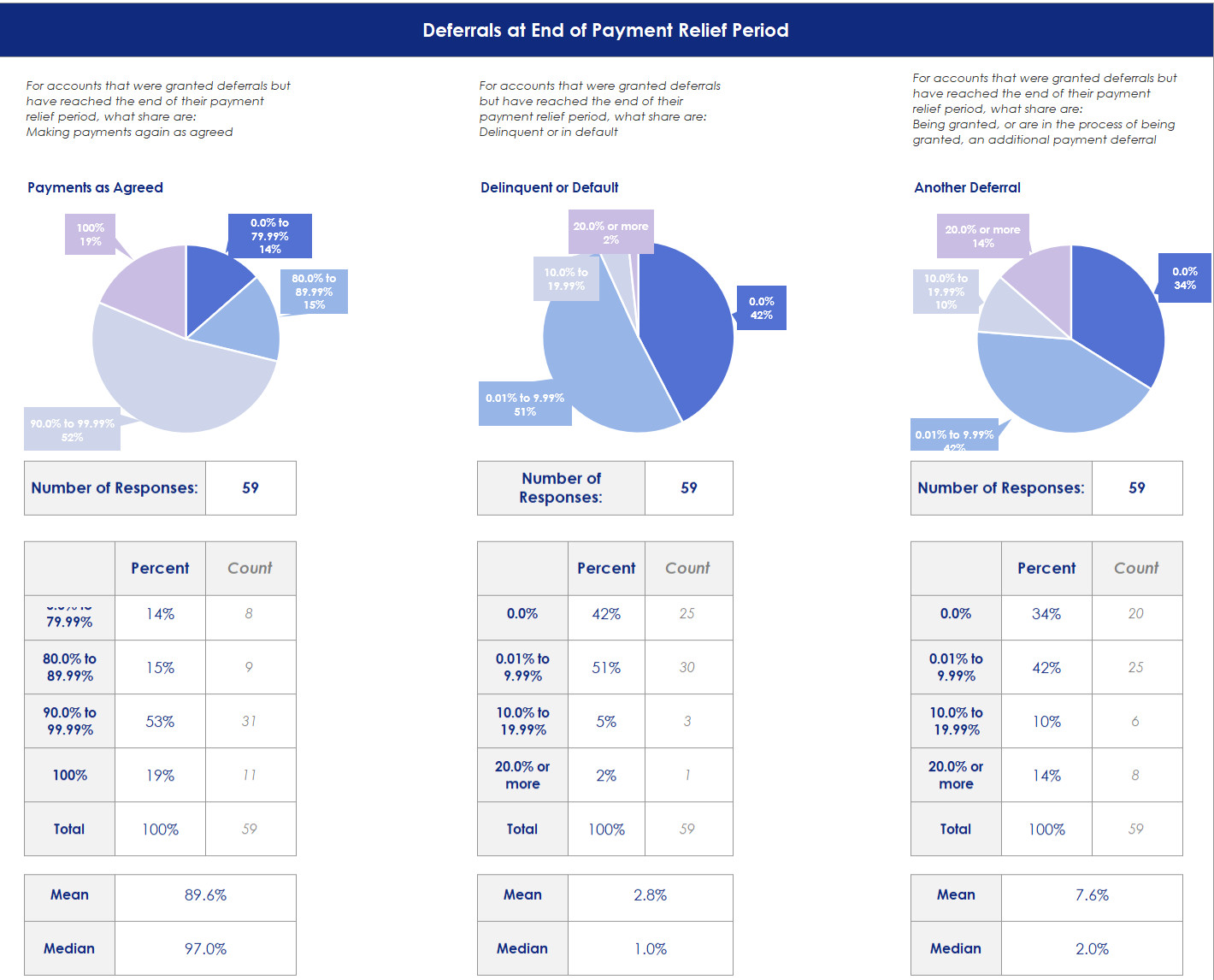 October 2020 Survey Highlights - Defaults

October 2020 Survey Highlights - Staffing




October 2020 Survey Comments from Industry Executive Leadership
Independent, Small Ticket
"I remain optimistic about the equipment finance industry's ability to support the economy and fuel the recovery. I am most concerned about turmoil in the country and worry that the upcoming election and social unrest may have negative impact in the short run." Valerie Hayes Jester, President, Brandywine Capital Associates, Inc.
"Opportunities for new asset acquisition and sale leaseback will grow for independent lessors over the short to medium term. The length of the pandemic and other fiscal policies will determine when the competitive landscape will normalize for the supply of equipment finance capital." Jeffry Pfeffer, President, Accord Equipment Finance
Captive, Small Ticket
"The next three to six months look promising from a transportation perspective. The future will be driven more by legislation pertaining to the reduction of greenhouse gases and electric vehicles. There will always be a need for equipment finance solutions. What that will look like three-plus years from now is anyone's guess." Jim DeFrank, EVP and Chief Operating Officer, Isuzu Finance of America, Inc.