The equipment finance industry, like most sectors of the global economy, has been affected by the COVID-19 pandemic. In order to track industry response to the pandemic, the Equipment Leasing & Finance Foundation has developed a monthly COVID-19 Impact Survey. 
In 2021, the Foundation plans to reduce the frequency of data collection and publication to a quarterly interval.  Additionally, questions will be revised to reflect longer term effects of the pandemic's impact on equipment finance companies going forward.
If you wish to participate on behalf of your company in 2021 please contact Stephanie Fisher at sfisher@leasefoundation.org,to determine eligibility for inclusion in the survey.
December 2020 Survey Results
47 survey responses were collected from December 1-14 on a range of topics, including payments deferrals, defaults, and staff analysis.
50% of companies expect that the default rate will be greater in 2020 than in 2019, down from 54% in November; 33% expect it to be the same, down from 35% last month; and 17% expect it to be lower compared to 11% last month.
Only 2% of lenders reported having more than 10% of their portfolio now under deferral, down from 4% of lenders last month.
The largest percentage of respondents (64%) have 0.01-4.99% of dollars outstanding currently under payment deferral in their owned portfolio.
December 2020 Survey Comments from Industry Executive Leadership
Independent, Middle Ticket
"Through 2021, the economic climate will be tepid in many sectors and robust in a few. The medium term will show a significant uptick in volume, particularly in the construction and ancillary industries. With the political strife, social justice issues, U.S. debt load, and global competition, the long term is uncertain at best." Jonathan Ruga, CEO, Sentry Financial Corporation
Bank, Middle Ticket
"There's quite a bit of pent-up demand due to COVID. Mid-2021 we should see a large increase in equipment purchases in all verticals. As long as there is equipment to purchase there will always be equipment finance needs." Donna Yanuzzi, Managing Director of Sales and Marketing, FNB Equipment Finance
Independent, Large Ticket
"Given the rising COVID rates, I would expect a temporary slowdown in activity in the short term. Medium term, and depending on monetary and tax policy with the new Biden administration, could exhibit a downturn and short recession. I believe in the long term our industry will be strong with new technological and alternative asset types driving demand." Vincent Belcastro, Group Head Syndications, Element Fleet Management
December 2020 Survey Highlights - Deferrals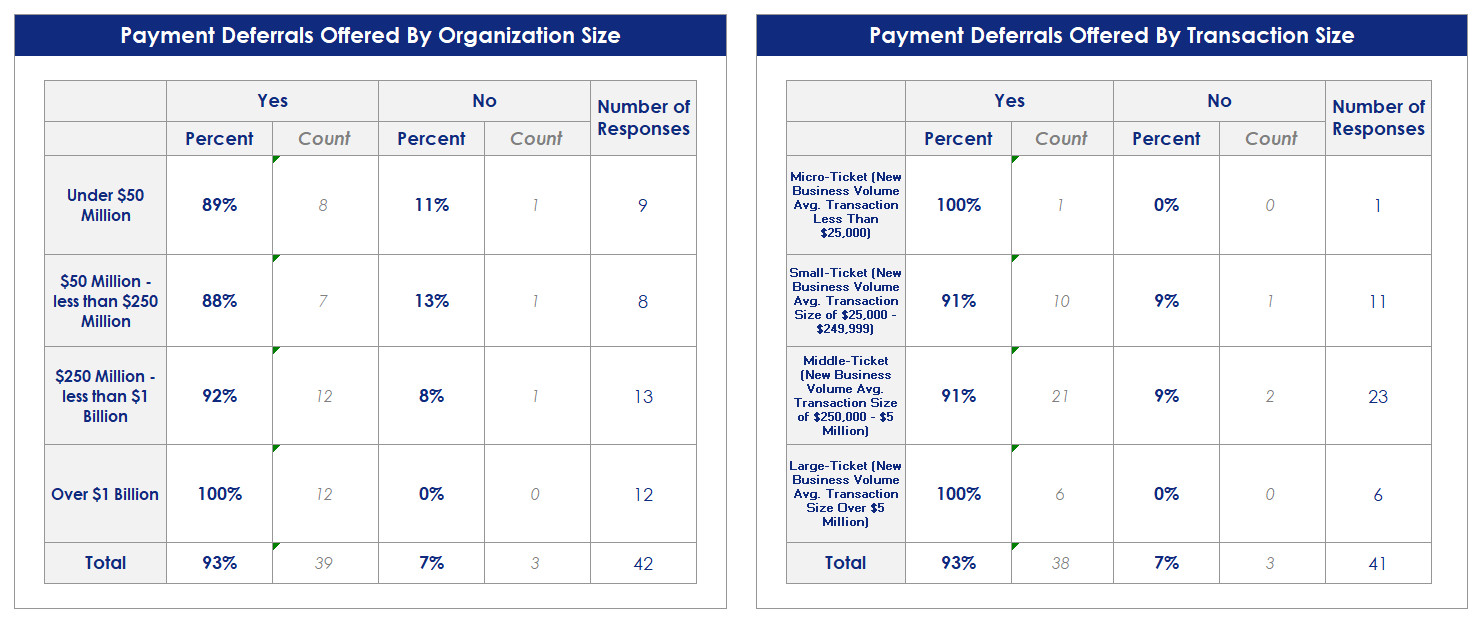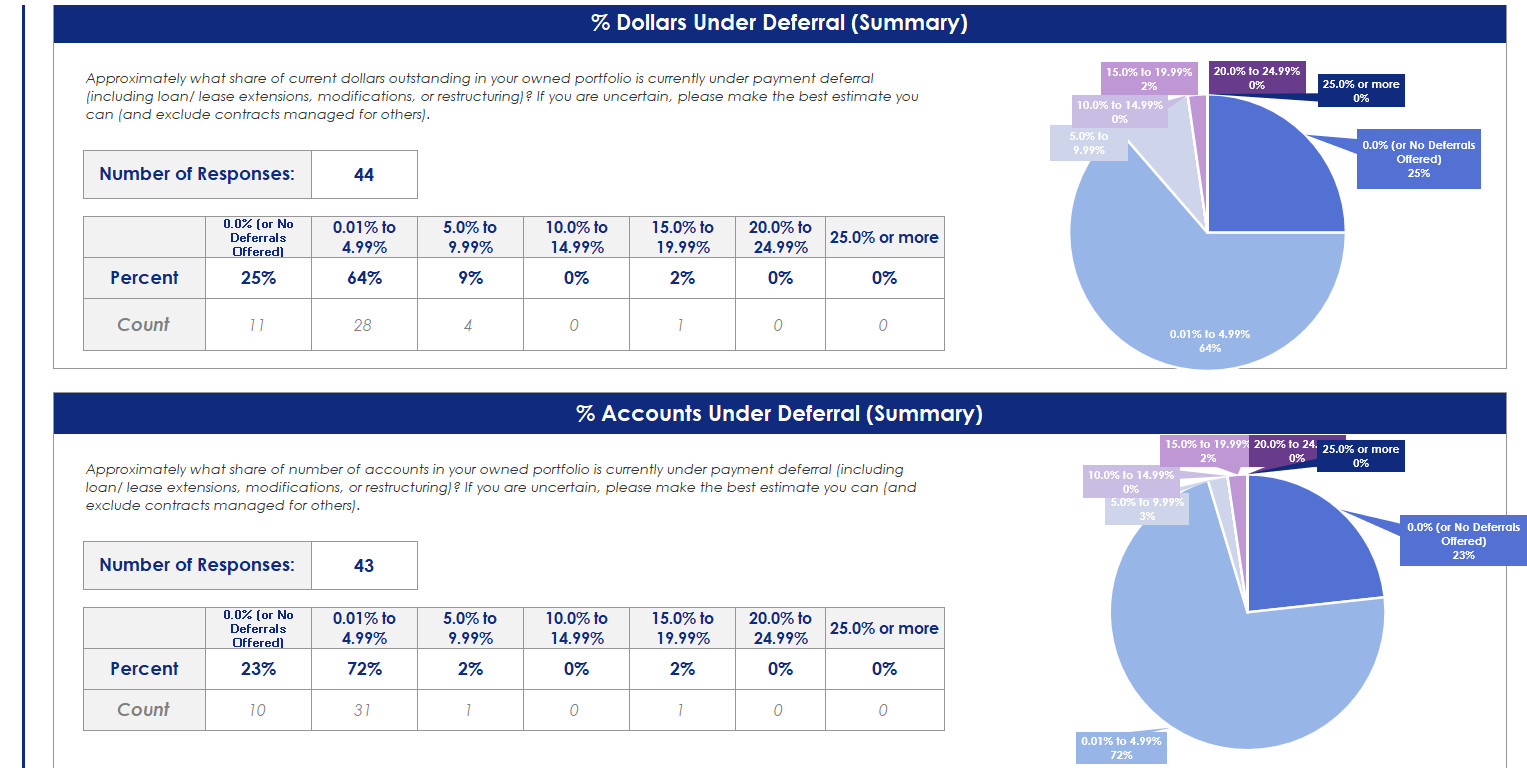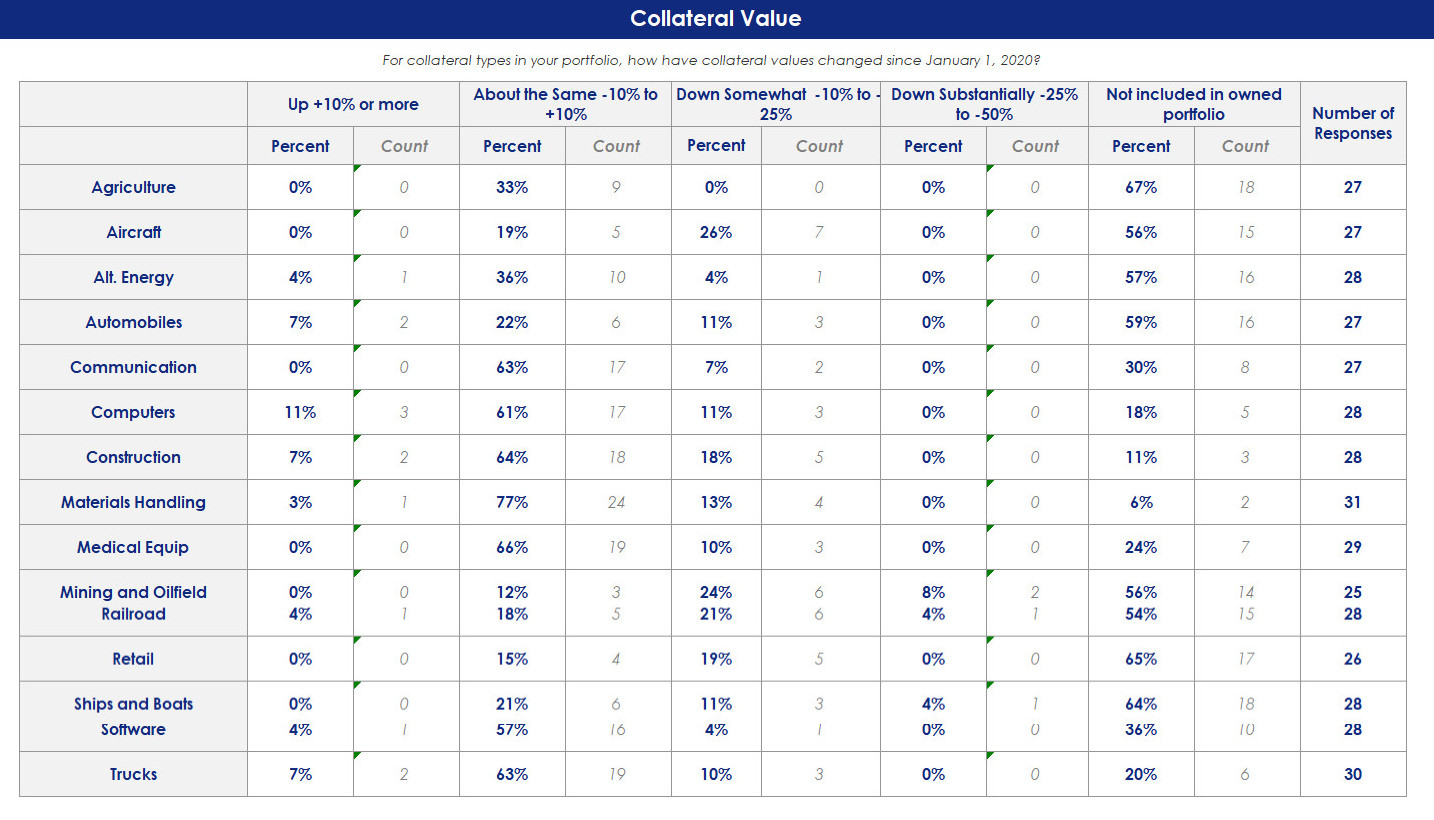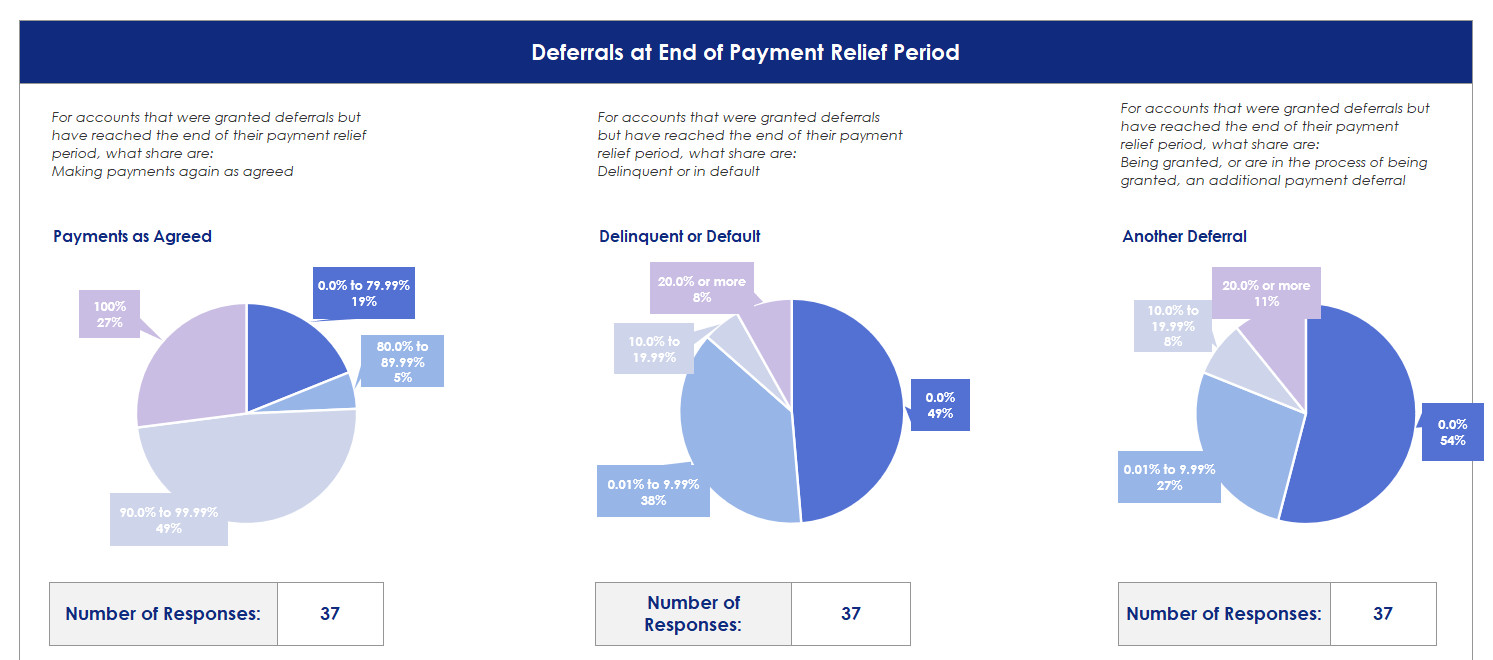 December 2020 Survey Highlights - Defaults


December 2020 Survey Highlights - Staffing